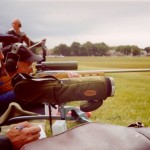 The Old Cranleighan Rifle Club is open to members of the OC Society who, in turn are former pupils or former members of Common Room at Cranleigh School. In its present form, the Club was founded in April 1937 and, apart from the years of the Second World War, has remained active ever since.
Despite the "closed" nature of its catchment constituency, the Club is an entirely properly regulated rifle club within the terms that prevail in the United Kingdom: it has Home Office approval and is affiliated to The National Rifle Association, the governing body for the shooting discipline it mainly pursues. It is also affiliated to the Surrey Rifle Association at Bisley Camp which it uses as its headquarters.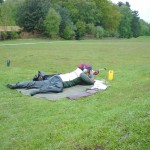 Very predominately, the type of shooting involved makes use of weapons to NRA Target Rifle specification with 7.62 mm calibre ammunition and at ranges from 300 yards to 1000 yards. This all takes place at the NRA Ranges at Bisley Camp. Sometimes we challenge the School Smallbore (.22″ cal.) Team at Cranleigh. The Shooting Committee arranges a programme of fixtures for the summer season each year. The events include a mix of practice shoots, team matches and individual competitions and, in accordance with the basis of the Club's foundation, an entry for at least one team in the Schools Veterans Competition in the NRA Imperial Meeting. The Club may also be invited to take part in events organised by the Surrey Rifle Association. The Club encourages members to take part in other competitions open to them, particularly the NRA Imperial Meeting.
STOP PRESS – STOP PRESS – STOP PRESS!!!!!
We are actively seeking new members to join the Club for the 2017 season. Whether you shot with the CCF when you were at the School, or maybe tried shooting while at University, or even if you've never shot before, you'll be made very welcome (and no doubt bought a drink in the SRA bar after the shoot). Rifle shooting is also one of the very few (competitive) sports where men and women compete on completely equal terms. We can provide all necessary coaching and equipment for the beginner, and can advise what kit you might want to consider buying first if you decide that this is a sport you want to take further. If this sounds of interest then please contact Rob Pile via email (rob.pile@outlook.com) or on 07976 257010.